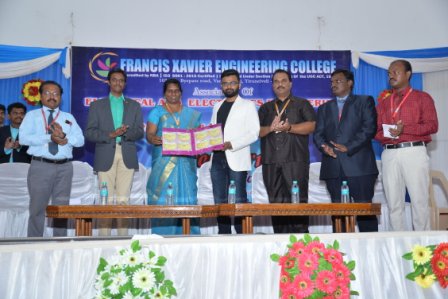 14th National Level Technical Symposium "SYNCHRON'19" organized by department of Electrical and Electronics Engineering on March 14th 2019. Mr.K.V.Natesh, Senior Project Engineer,Epiroc Mining India Ltd., Bangalore (Erstwhile Atlas Copco), Alumnus 2010 Batch. was the Chief guest for the National Level Technical Symposium. He delivered the importance of Usage of Electricity and Carrier opportunities in Electrical Field.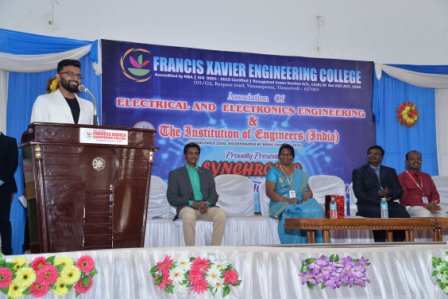 Mr.L.J.Saravanan of IV EEE B Section delivered Welcome Address and Dr. Joy Winnie wise, Principal, Francis Xavier Engineering College delivered the Felicitation address, Francis Xavier Engineering College, Tirunelveli. Symposium proceedings were released by the dignitaries and Finally Vote of thanks given by Mr. Jebin Ronaldo from IV EEE A Section.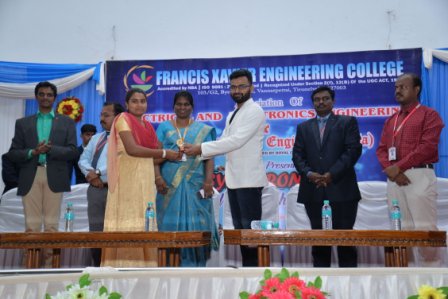 Dr.P.Annapandi, Head of the Department EEE ,Dr.A.Ravi, Associate Head , Mr.J.Antony Robinson, Assistant Professor, Mrs R. Banumathi , Assistant Professor and All the Faculty Members of department of EEE coordinated the Symposium. Totally 20 no's of papers were presented in the Symposium by the students from the various institutions .
The following Technical Events Were conducted in the symposium,
i) Paper Presentation
ii)Technical Quiz
iii) Dumb-C
iv) Connections
v) Photography Event