NSS Volunteers are encouraged to do 100 hrs of Voluntary Activities. The objective of NSS is to channelize the Youth energy towards Nation building activities. These voluntary activities help NSS Volunteers to develop their personality and leadership qualities and promote the spirit of dignity of labour.The NSS Unit takes up any of the following activities which is useful to the Local Area/ Village/ Community.
Digging, maintenance, disinfection, de-silting, de-weeding and repair of Water bodies cleaning and de –weeding of Rivers, Lakes, Tals, Boulis, Tanks, Wells etc.
Removal of Parthenium (Gaajar Ghas), Lantana and water Hyacinth (these plants are a threat to the environment and water bodies; Parthenium ( Gaajar Ghas) is also a health hazard).
Constructions of water tanks/Ponds ground water recharging purpose.
Plantation of saplings to stop soil erosion, development of Village pasturelands, re-cooping of bunjar/unfertile lands.
Cleaning and repair of Village drainage system disposal of garbage in order to generate environment friendly manure.
Cleaning of Village Streets and open spaces, collection and disposal of polythene bags and plastic waste for disposal.
Constructions/repair of Village roads/Small connecting bridges and small water harvesting bodies.
Cleaning, white-washing/painting, repair/maintenance of School buildings gram panchayats, Primary Health Center, Anganwadi's places of worship and other public buildings.
Development and maintenance of Play Ground, Cleaning of Schools, College Campus etc.
Assisting in constructions of soak-pits, for the needy people maintenance of School/Community toilets etc.
Preservation/Cleaning/maintenance of heritage sites.
Each NSS Unit in their adopted Village would undertake minimum of 100 hrs in a year. These hours can be spent either 2-3 hrs on a Non - working day i.e. Saturday/ Sunday or during lean working days or holidays.

Each programme, a minimum of 50 – 100 NSS Volunteers would participate in the above mentioned voluntary Labour activities.
Gandhian Procession against the use of alcohol.
A Grant Procession was conducted on 25th July 2013 from VOC Ground to Jawahar ground, Tirunelveli. More than 100 volunteers participated and distributed pamphlets and created awareness among the public.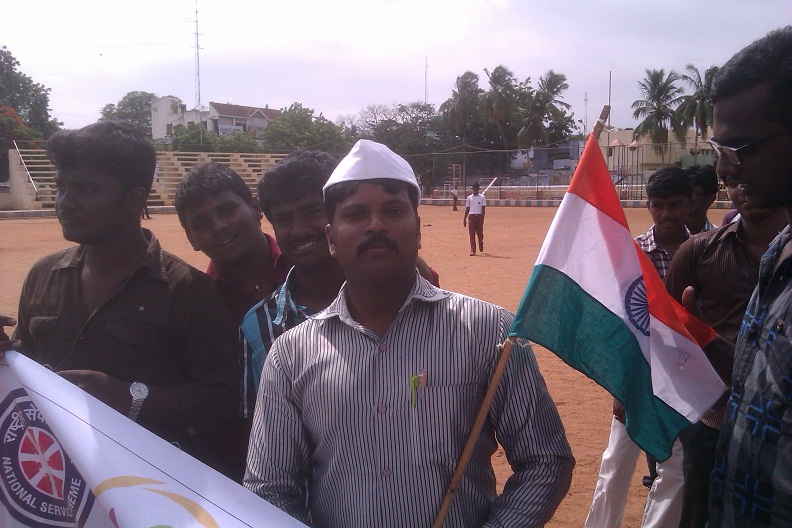 Observance of Sadbhavana Diwas.
To promote national integration and communal harmony among the students, Skit, drawing and elocution competitions were conducted on 16th Aug 2013.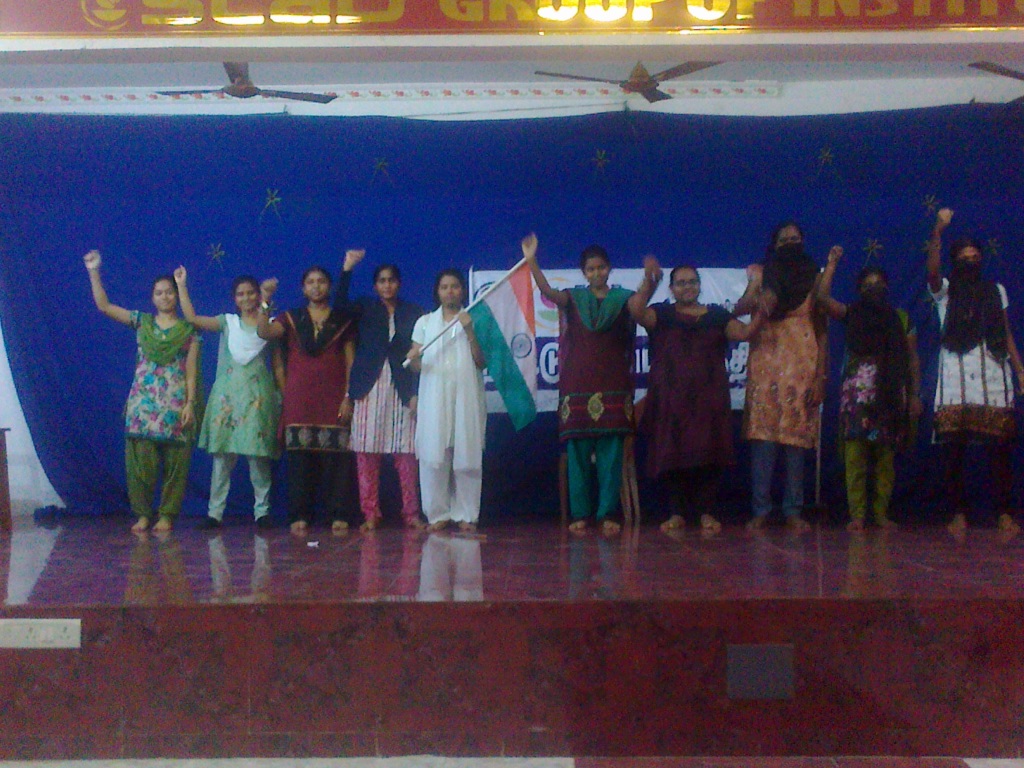 Workshop on Family Laws and Cyber Crimes.
In association with Tirunelveli District Legal Services Authority on Family Laws and Cyber Crimes, a Workshop on Family Laws and Cyber Crimes was conducted on 27 September 2014 in our campus. Mr.Ramalaingam, Judicial Magistrate, Tirunelveli addressed the students.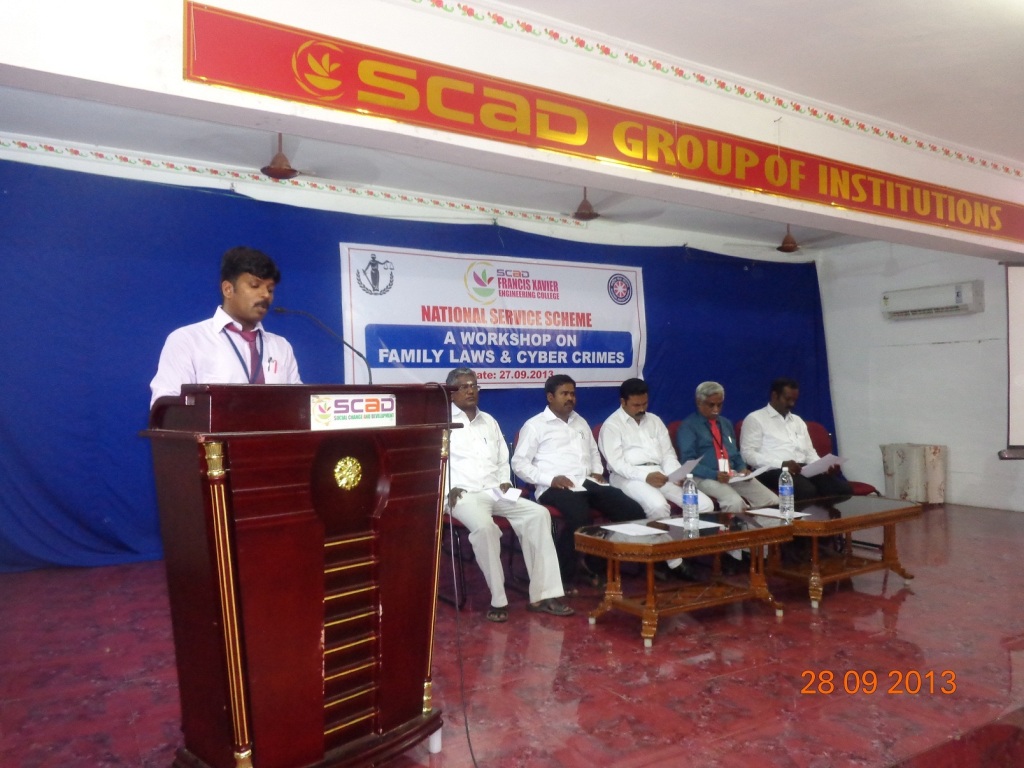 White-Cane Day
White-cane Day was observed on 13th and 14th October 2013. NSS Volunteers collected Rupees 12,414/- and contributed the amount to the Indian Association for the blind, Madurai. Mr.Sathish Kumar.J, NSS Programme officer receiving Gold Zone Reward from the Indian Association for the Blind, Madurai.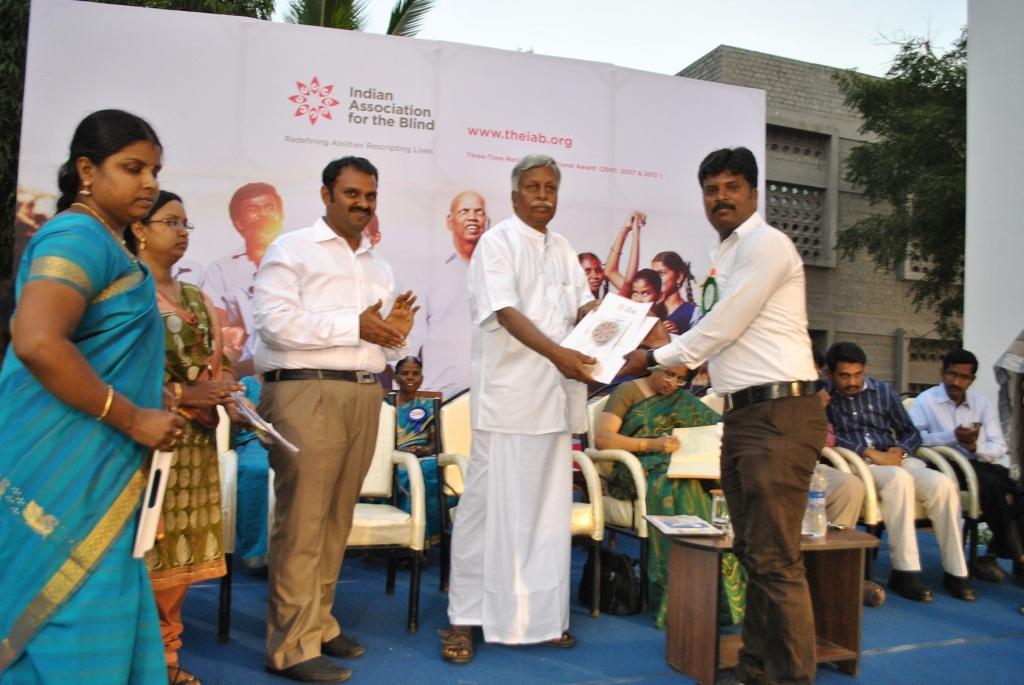 Blood Donation Camp
Blood Donation Camp was conducted on 16th Nov 2013 in our campus in association with Lions Club, Tirunelveli. More than 250 students and members of the staff donated blood and Mr.J.Sathish Kumar, received the award and certificate from Mr.Karunakaran , District Collector, Tirunelveli.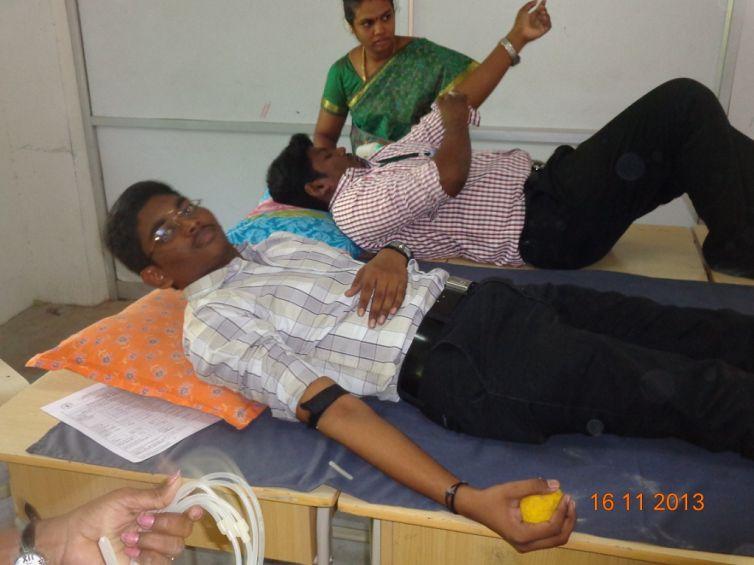 Human Chain
In a bid to promote the awareness of right to vote the human chain was conducted on 28.10.2014 in association with DRDA, Collectorate, Tirunelveli.
Special Camp
A 7-day NSS special camp was organized from 4th Feb to 10th Feb 2014. A wide range of activities were conducted at Thiruvenkatanathapuram, Tirunelveli during these days. The selfless service of the volunteers with the true spirit asserted the motto of NSS "Not Me but You".
The NSS Volunteers cleaning the surroundings of the community hall of the village.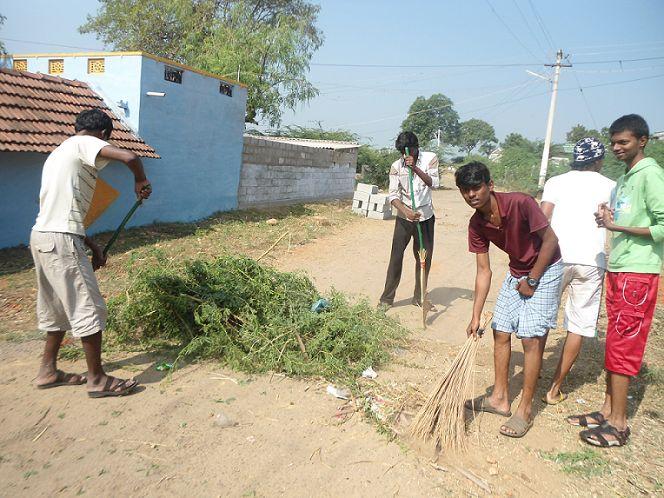 The Volunteers whitewashing the bus shelter of the village.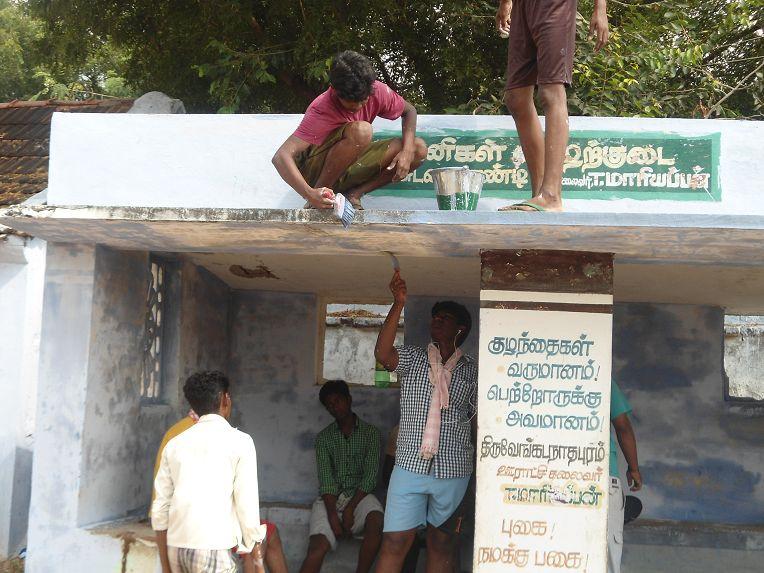 Free medical assistance to the villagers.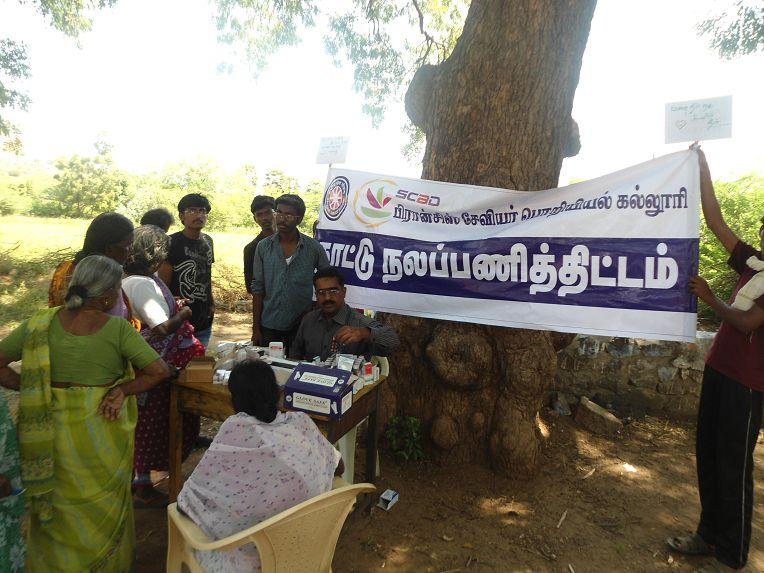 A Procession highlighting the importance of Primary Education and eradication of Child Labour.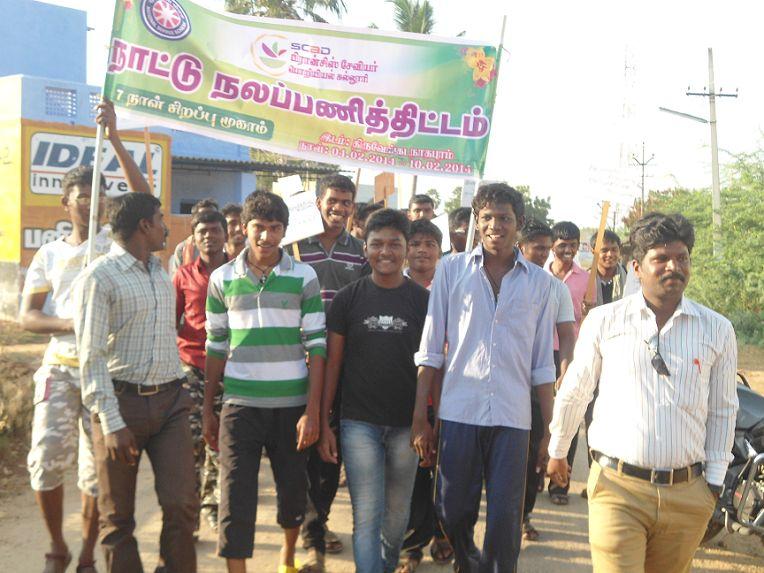 Awareness programme on the symptoms of cancer and remedial measures.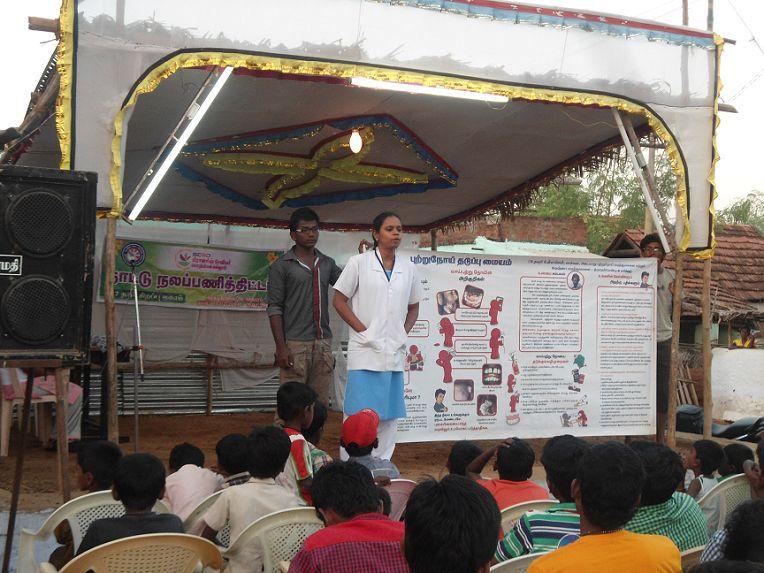 Tree plantation by Mr.Suresh, Village Officer, Thiruvenkatanathapuram